The Nigerian-British Chamber of Commerce on Friday 30th June, 2017 celebrated her 40th Anniversary in Grande Style at the Grand Ballroom intercontinental Hotel Lagos. The event had about 350 guests in attendance with top dignitaries in attendance.

His Excellency, Chief Olusegun Obasanjo, GCFR, Former President, Federal Republic of Nigeria who was ably represented by Chief Abraham Akanni gave a short speech which was later followed by a fantastic speech by His Excellency, Dr. Donald Duke CON, Former Governor of Cross Rivers State who was the Guest Speaker. His Excellency, Mr. Akinwunmi Ambode, Executive Governor of Lagos State who was the Special Guest of Honour was ably represented by Honourable , Prince Rotimi Ogunleye, Commissioner for Commerce, Industry and Cooperatives.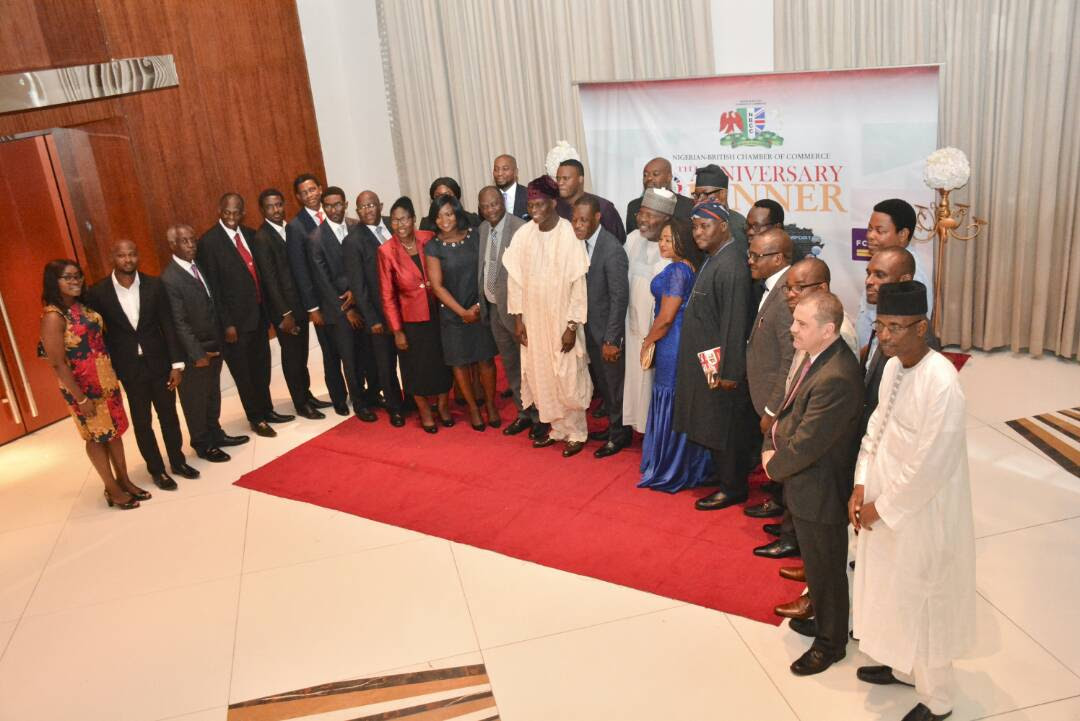 During the dinner, the Chamber also inducted 24 new Members into the Chamber, they include:
Alex & Jefferson Consulting Ltd
Brunel Logistics Global Solutions Ltd
Bluebird Communications Limited
Consolex Legal Practitioners
Cumbrian Consult Limited
Creativexone Limited
Dreg Waters Petroleum & Logistics Limited
Duale, Ovia & Alex-Adedipe
Fedex Red Star Express
Graceco Limited
Groupe Aldelia Limited
JNC International Limited
Northcourt Limited
Richardson Oil and Gas Limited
Rubesco Energy Limited
Safety Consultants and Solutions Providers Ltd
Skool Media Nig. Ltd
SO&U Group
Toyota (Nigeria) Limited
Tuntise Investments Ltd
UBS (Nigeria) Representative Office Limited
Ultimate Health Management Services Limited
VJPD Consult Ltd
Windriven Systems Limited

Mr. John Woodruffe, Acting Director, British Department for International Trade, Nigeria representing H.E Paul Arkwright, CMG, British High Commissioner to Nigeria.
Click here to view more pictures.