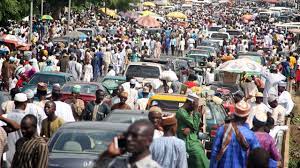 Finance
August 10, 2022
According to the Population Division of the UN Department of Economics and Social Affairs, Nigeria would have 375 million people and rank fourth in the world in terms of population in 28 years.
The estimate includes a warning that the societal evils of overpopulation, such as unemployment, the food crisis, and crime rates, will worsen.
Up until last year, when the gross domestic product (GDP) gained the upper hand with a growth rate of 3.6% compared to the average population increase of 2.6% during the previous ten years, Nigeria's growth has recently slowed due to the country's rapidly expanding population. Even as the country is anticipated to have reached 216 million, experts are concerned about the severe consequences of overpopulation unless the country takes swift action.
While the IMF research titled "The New Economics of Fertility" highlights concerns about rising ultralow fertility in high-income nations like Germany, Italy, Japan, and Spain, where the fertility rate has been around 1.5 over the past 20 years, Nigeria is worried about its bloated size.
The research contends, however, that fresh information shows the ideas are losing favor with the general public. However, it argues that low-income nations like those in sub-Saharan Africa continue to have a preponderance of the negative income-fertility link (SSA).
It also discusses how families in high-income nations are adjusting their fertility trends (such as France, Germany and the United States). It claims that the unfavorable correlation between female education and fecundity is waning in those nations, which is consistent with better salaries boosting the opportunity cost of raising children.
Source - Words&Shots