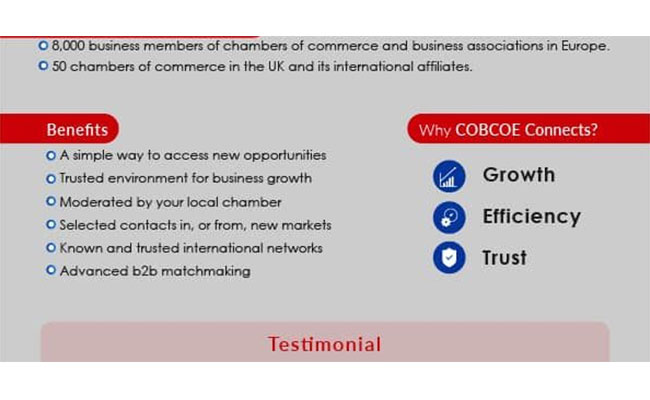 BI-Lateral Trade Relations
September 4, 2018
COBCOE Connects team is proud to introduce first African chamber joining COBCOE Connects platform! The Nigerian-British Chamber of Commerce is the foremost bilateral Chamber of Commerce in Nigeria. The Chamber is accredited under the NACCIMA/CIPE, Washington, D.C. USA accreditation programme. There are over 350 corporate members who are found in all sectors of the Nigerian economy. Its membership base ranges from small and medium enterprises to large scale multinational corporations.
COBCOE Connects unites 15 British chambers of commerce in 10 different countries, 5757 companies from different sectors and 301 opportunities to do #BusinessWithoutBarriers. We are the fastest growing B2B online matchmaking platform, offering a trusted and personal service to all our member companies.
The platform offers four services which together create a unique trading hub for companies:
The means to develop and enhance their profile, searching out the right opportunities
A tailored, automated 'matchmaking' service between company members within the COBCOE network
Facilitated transactions between members that have 'found' each other via the platform
A service platform for strategic partner companies – these may be at COBCOE level, like our founding partners Kompass International, or at the local network level. The offer can include visibility and branding or a more direct service offer for a limited number of selected members to assist their trading experience.
If you are interested in taking your business to the next level using COBCOE Connects, please contact Bunmi Afolabi, DG NBCC on +2348034023731 or Bunmi.afolabi@nbcc.org.ng