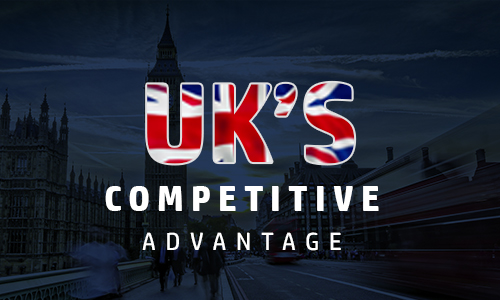 Latest News & Updates
March 22, 2021
After nearly 50 years, the United Kingdom is an independent trading nation once again.
This is an unparalleled opportunity to turn our vision of Global Britain into reality, driving forward an export-led and investment-led recovery by championing free and fair trade.
As the U.K. government set out on Tuesday in its Integrated Review, the fullest assessment by a British government of its place in the world since the Cold War, we are determined to shape the international order of the future — a new era rich in jobs and opportunity for people in developing and developed nations alike.
We are driven in this approach by our fierce belief in the benefits of free trade, from lower prices to higher wages and productivity.
Free and fair trade is the best way forward for us all. It is the force that has reduced poverty on a scale unprecedented in human history, lit the spark for transformative innovation and brought great prosperity.
But in recent times, faith in free enterprise and free trade has faltered. Protectionist rhetoric and action has increased, and some nations have raised barriers to trade further during the pandemic, which the U.K. completely rejects.
To restore support for free trade, we must make it fair and show it delivers things the public care about: better jobs, more prosperous communities, higher standards of living, a greener planet. We will do that by tackling practices ranging from state-sponsored forced labor to the degradation of environmental standards and the use of unreported industrial subsidies to gain a trading advantage.
Now is the time to turn the page. This year, the U.K. is stepping up as president of the G7 and host of COP26 to build a united front of allies driven by common values and modern outlooks.
Together, we will lead the charge for a more effective, modern and green World Trade Organization that keeps pace with the opportunities and challenges of modern trade. We must grasp the next ministerial conference under WTO Director-General Ngozi Okonjo-Iweala as an opportunity to build back a better trading environment in which everyone plays by the rules and the full benefits of trade are felt worldwide.
We will work together to reshape the rules of global trade to reflect our core values: democracy, human rights and high standards across the board from environment and labor rights to data flows and intellectual property.
The U.K.'s values-driven policy has already delivered successes in trade negotiations. We have struck advanced deals covering 66 countries plus the European Union to secure £890 billion of trade. Our deal with the EU is the first the bloc has agreed based on zero tariffs and zero quotas. It covers services and has strong measures for digital trade. We have agreed cutting-edge provisions for digital and data in our deal with Japan, and are pursuing ambitious agreements with the United States, Australia and New Zealand.
We intend to be at the heart of the action, which is why the U.K. is deepening trade with markets in the Indo-Pacific region — which is set to dominate the global economy by the end of the decade — and applying to join 11 vibrant economies as part of the Comprehensive and Progressive Agreement for Trans-Pacific Partnership.
Just as free trade made the U.K. great in the 19th century, we can be even greater still in the 21st by becoming a global hub for services and digital trade.
Already, the prime minister has launched our new Office for Investment, showing that his door is truly open to potential investors in Global Britain. Chancellor Rishi Sunak has launched our first raft of freeports, and I have launched our lower, simpler and greener U.K. Global Tariff regime.
As the Integrated Review sets out, Global Britain means local jobs — by which I mean that the opportunities we are pursuing overseas will support livelihoods across our country. Research last week released by the Department for International Trade estimated that 6.5 million local jobs were reliant on U.K. exports.
By securing new opportunities overseas, businesses in all parts of the U.K. will be able to grow through exporting, whether it is Scotch whisky distillers, Welsh lamb farmers or car manufacturers in the Midlands.
Trade and investment also help the U.K. play to its strengths as a science and tech superpower by securing high-quality jobs in the industries that will define our future through innovation and clean technology. They range from the factory in North Wales producing hundreds of millions of doses of the U.K.-developed coronavirus vaccine to the British innovators in the north of England building the U.K.'s first electric car battery "gigafactory."
What is good for Britain is good for the world. We are helping build back better by unleashing our full potential, creating new jobs, businesses and industries across the U.K. and beyond. This is Global Britain in action.
Nigeria to Rank Among First 100 Countries in Ease of Doing Business By 2023 - Adebayo
Minister of Industry, Trade and Investment, Otunba Adeniyi Adebayo has assured that by 2023, Nigeria would be ranked among the first 100 countries of the world in the area of ease of doing business.
Delivering a keynote address at the virtual Nigeria-Britain Trade and Investment Expo with the theme: "Unlocking the Future of Anglo-Nigerian Trade" on Thursday, the minister noted that there is a correlation between ease of doing business and economic prosperity of the country.
He said , "Given the strong correlation between the ease of doing business and economic prosperity, Nigeria believes in the value of proactive investment facilitation in encouraging domestic and foreign investments into the country. The consistent efforts of the Presidential Enabling Business Environment Council (PEBEC) in collaborating with the relevant private and public sector institutions has resulted in the steady improvement in Nigeria's position in the World Bank Ease of Doing Business ranking.
"Nigeria has recorded improvements in its business environment especially in the last 5 years, based on the World Bank's assessment through its Doing Business Index. Nigeria's ranking stood at 131 of 170 countries in 2020, up from 170 of 189 countries in 2016. We have also recorded improvements in the World Bank's Sub-National Doing Business assessment."
Speaking on efforts to attract investors to the country, he disclosed that Nigeria has revised its bilateral investment treaty (BIT) model with the provision for investment facilitation inserted to institutionalise the principle of supporting investors to actualise their investments.
"This model is a 'new generation' BIT which highlights the economic development objectives of the government, and balances investors' rights with obligations in a bid to ensure that Nigeria attracts Responsible, Inclusive, Balanced and Sustainable (RIBS) investments,"he said.
Adebayo said Nigeria is also one of 14 African countries to develop an online investment guide: "iGuide Nigeria", to help investors make better-informed decisions about investing in Nigeria.
According to him, the iGuide Nigeria is an easy-to-use online platform which provides investors with up-to-date and pertinent information on the processes, procedures and basic costs of setting up and doing business in Nigeria.
"Further to the iGuide Nigeria platform, the Nigerian Investment Promotion Commission (NIPC) recently produced the "Book of States" to drive greater attention to subnational investment opportunities in Nigeria. This compendium captures the competitive advantages and the key investment opportunities being promoted by each of Nigeria's 36 States and the Federal Capital Territory (FCT) in an easily accessible format, to help investors better appreciate the investment potentials across Nigeria,"he added
"As part of efforts to modernise and upgrade our One Stop Investment Centre (OSIC), we are in the pilot which is aimed at achieving a speedy resolution of investors' problems by bringing together the investors and government agencies required to resolve their issues into a "laboratory" until the issue is resolved. The OSIC Lab should help us drive practical policy reform, protect existing and prospective investments, encourage investments and create and protect jobs.
"Furthermore, Nigeria is an active player in informal engagements at the World Trade Organization (WTO) on Investment Facilitation for Development (IFD), an initiative that emphasizes increasing investments for sustainable development in developing countries through proactive investment facilitation.
"We are optimistic that Nigeria will move further up and maintain a rate of improvement of 10 places per annum to become a top 100 contender in 2023," he said.
Adebayo said President Muhammadu Buhari was committed to improving the implementation of various trade facilitation programs at all levels, pointing out that the National Trade Facilitation Committee (NTFC) is conferred with the mandate of resolving issues affecting trade facilitation at domestic and WTO level.
"With its five-year framework for Trade Facilitation Reform, the committee is dedicated to ensuring simplification, modernisation and harmonisation of trade documents and procedures for easy flow of goods and services in International Trade,"he said.
He listed various initiatives being implemented by the NTFC to include: The implementation of the National Single Window Trading platform: A key milestone is the approval of the E-customs system which includes the acquisition of scanners needed to expedite import and export processes;setting up Trade Facilitation Centres and desks in each of the 36 States of the Federation, including the Federal Capital Territory: For monitoring trade flows and movement of goods and persons in each state; establishing a Trade Information Portal: Which will serve as an online, real-time repository of information to guide prospective importers and exporters on the requirements for their transactions, with links to trade-related agencies' websites; and development of the Secured Agricultural Commodities Transport and Storage Corridor (SATS-C) Policy to facilitate the movement of Agricultural commodities through a safe and secured corridor to three critical points- domestic, industrial and export markets.
The minister said his ministry was strategically focusing on implementation of reforms and policies aimed at improving the ease of doing business to mitigate investors' concern and accelerating additional inflow of investment and volumes of trade.
Okonjo-Iweala meets Buhari, says Nigeria's share in global trade 0.33%
The World Trade Organisation will work to deliver technical assistance, training and quality upgrade to unlock some bottlenecks confronting Nigeria, the director-general, Ngozi Okonjo-Iweala, has said.
Mrs Okonjo-Iweala stated this on Monday in Abuja when she visisted Adeniyi Adebayo, Minister of Industry, Trade and Investment and Minister of State, Mariam Katagum.
She later met with President Muhammadu Buhari. The former finance minister of Nigeria arrived the country Saturday on a five-day working visit, two weeks after she assumed leadership of the global body.
She described WTO as an economic institution that could work with other financial institutions to support investments and technical assistance to mitigate Nigeria's economic challenges.
She said the WTO was created with World Bank and International Monetary Fund (IMF), adding that these three institutions, by working together, could deliver a lot.
Mrs Okonjo-Iweala also noted that Nigeria's share in world trade was 0.33 per cent which showed a small fraction of what Nigeria could do.
"Our share in Africa's trade is 19 per cent, which is below our share of Africa's Gross Domestic Product (GDP). This means we can turn it around," she said.
"I like to look at the optimistic side, when I saw this I knew that there was potential for us to do much. And that is the message I want to convey to the country.
"This means that we must step up our action on the economy, we must do better and harder in several ways because of our youth who are waiting for jobs.
"Nigeria needs to focus on adding value on transitioning. We are an oil and gas-based economy, and that has sustained us and still will. But the world is moving away from fossil fuel," she said.
Mrs Okonjo-Iweala said trade negotiations on agricultural issues were very important for Nigeria adding that the country was active in agriculture and also in the Joint Statement Initiatives, ongoing prolateral negotiations.
According to her, Nigeria is equally involved in E-commerce, services domestic regulations, investment facilitation, micro small and medium enterprises and women in trade.
Mrs Okonjo-Iweala, while stating that Nigeria was 103 out of 167 countries in logistics, advised that it was a potential area Nigeria could invest in to improve its logistics.
She said the country can take advantage of trade within the Africa Continental Free Trade Area (AfCFTA).
The WTO D-G also noted that WTO was being faced with many challenges and also needs its own reforms to deliver results.
She added that the organisation has not delivered a multilateral round of negotiations in quite a number of years and has the unique opportunity of delivering the fishery subsidy negotiations.
Mr Okonjo-Iweala explained that supporting and finishing the fishery subsidy negotiations was important for the sustainability of our oceans.
Speaking on COVID-19, Okonjo-Iweala said the WTO must contribute more to the solutions of vaccines therapeutics and diagnostics, especially to the poor countries. On its dispute settlement system that was paralysed, she said it had to discuss with all members including the U.S. on how to make it work again.
She said this was because the rules-based organisation could not continue to make rules if the dispute settlement system did not work.
"Our vision for the WTO is to face these challenges. I hope that Nigeria will take a very active supportive role in helping me to deliver on some of the messages," she added.
Earlier, Mr Adebayo intimated Mrs Okonjo-Iweala on some of the ministry's expectations regarding its engagement in ongoing negotiations as it prepared for the WTO Ministerial Conference, scheduled to hold in Geneva in December 2021.
On the ongoing agriculture negotiations, Mr Adebayo said Nigeria was expecting balanced and equitable outcomes that would address the structural causes of insecurity in Net Food Importing Developing Countries (NFIDCs) and Least Developed Countries (LDCs).
On the fisheries subsidies negotiations, the minister noted that the ministry looked forward to outcomes that would result in reduction of overfishing and unsustainable development of the fishing sector of developing countries.
"I also wish to draw your attention to our capacity difficulties which continue to undermine our effective participation in the multilateral trading system.
"While we acknowledge with thanks the capacity-building efforts of WTO around training officers on international trade governance, the need for more targeted technical assistance from the WTO cannot be overemphasised," he said.
Mr Adebayo appreciated President Buhari for according priority for Nigeria's participation in the D-G WTO selection process and authorising the deployment of political, diplomatic and other resources.
He said this was to ensure Mrs Okonjo-Iweala's emergence from the three rounds of consultation as the candidate with the largest support of members to lead the WTO and your subsequent confirmation as D-G by WTO.
Similarly, Mrs Katagum urged the D-G WTO not to forget the commitment to sustain and enhance the ongoing dialogue and action on 'women in trade', as a firm believer in the power of trade to lift developing countries, including Nigeria out of poverty.