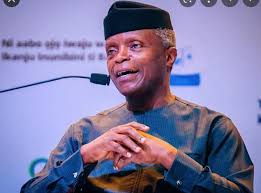 Economy
August 25, 2022
Vice President Yemi Osinbajo (SAN) states that significant and urgent action is needed to address Africa's widening energy gaps in order to take control of the continent's transitional paths.
In his remarks at the global virtual launch of Nigeria's Energy Transition Plan, a blueprint to address the twin issues of energy poverty and climate change, Prof. Osinbajo made this statement.
The Vice President explained why a unique transition strategy was necessary. "for Africa, the problem of energy poverty is as important as our climate ambitions. Energy use is crucial for almost every conceivable aspect of development. Wealth, health, nutrition, water, infrastructure, education, and life expectancy are significantly related to the consumption of energy per capita." he said.
The vice president emphasized the sizeable amount of resources needed to realize both development and climate aspirations. To implement our Transition Plan by 2060, Nigeria will need to spend $410 billion more than what it currently spends, or around $10 billion annually.
"The average $3billion per year investments in renewable energy recorded for the whole of Africa between 2000 and 2020 will certainly not suffice," he added.
Additionally, the Vice President noted that "we have an inter-ministerial Energy Transition Implementation Working Group, which I chair. We are currently engaging with partners to secure an initial $10 billion support package ahead of COP27 along the lines of the South African Just Energy Transition Partnership announced at COP26 in Glasgow."
Speaking on the effects of Climate Change in Africa, Prof Osinbajo explained that "climate change threatens crop productivity in regions that are already food insecure, and since agriculture provides the largest number of jobs, reduced crop productivity will worsen unemployment.
"It is certainly time for decisive action, and we just cannot afford to delay. African nations are rising to the challenge. All African countries have signed the Paris Agreement and some countries, South Africa, Sudan, Angola, and Nigeria have also announced net-zero targets."
The launch also featured remarks from Nigerian Ministers and officials, including, Ministers of Environment, Mr. Mohammed Abdullahi; Power, Engr. Abubakar Aliyu; Works and Housing, Mr. Babatunde Fashola; Finance, Budget and National Planning, Mrs, (Dr.) Zainab Ahmed; and Managing Director, Rural Electrification Agency, Engr. Ahmad Salihijo.
Other speakers included the Minister of Petroleum and Energies from Senegal, Dr. Aissatou Sophie Gladima; Minister of Electricity and Renewable Energy from Egypt, Prof. Dr. Mohamed Shaker El-Markabi as well as representatives of the United Nations, Sustainable Energy for All, The World Bank, African Development Bank, IRENA, The Rockefeller Foundation and the Global Energy Alliance for People and Planet.
Source: Channels TV